We are doing Search engine optimization (SEO) to improve the ranking of our website pages for significant searches. Website optimization is critical to any business that needs to attract clients searching for their products on search engines. But after optimizing the pages, what do we do?
Obviously, we need to follow the ranking changes for each keyword we are trying to optimize the pages for. You can use Search Console of Google Analytics but the average position given is not too precise and the list of keywords is way too long because you can be ranked for keywords that you were not optimizing for.
At the moment, the best tool I have found on the market, to follow ranking positions per keyword and to see also competitors position for the same keywords is Semrush.

We are going to see in detailed what the Position Tracking Tool of Semrush can do for you. First, you can create several projects, for example, if you have different websites or different strategies and looking for different keywords. In my case, I have a project per country because the keywords are different in each language. Once you have created your project you can activate the position tracking tool with your website, your keywords and your competitors.
Position Tracking
The position tracking tool is composed of a graph showing either the visibility, estimated traffic or average position of you and 4 of your chosen competitors. Below the graph finds also a detailed grid with all the Keyword's positions for you and 4 competitors. You can select up to follow 20 competitors but you can only compare your visibility and keywords position to 4 other competitors in that view.

Visibility
The visibility number is a percentage of how many keywords you have and on which position. So if all of your keywords are #1 in the results you'll have a visibility of 100%.

Estimated traffic
You can also see the estimated traffic graph. The estimated traffic is calculated according to the position of your keyword on Google, the volume for the keyword and the avg CTR for this position on Google.
If you are looking to rank for the high traffic keywords then you'll be more interested to look at your estimated traffic because it can give you a completely different picture than the visibility. For example, if you rank very well for the keywords with the most traffic or and at all with all the small keywords your visibility will be low but your estimated traffic will be very high.

Average position
It is possible also to see the graph with the average position of all the keywords you are following and compare with the competitors. The average position is I think not the best data to follow since it's a raw average. The estimated traffic according to the volume or the visibility according to the number of keywords well ranked are I think more interesting to check.

Ranking overview
Sort or Filter by keyword, volume or CPC. Use tags to be able to see only some keywords.
Short-tail keywords are the keywords with no specific device or type case

Top traffic keywords are the one with the most volume.

SERP features allow you to check which feature you are rank with


SERP features
For each keywords, you can see if you or a competitor have a snippet showing in the results

You can also filter by snippet type to see which keywords you have or not have yet with the snippet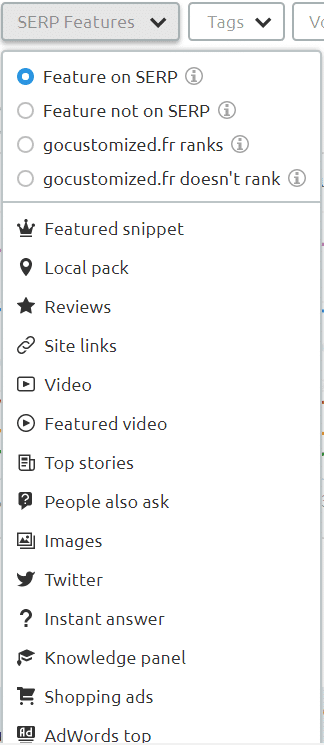 Rankings Distribution
To see all of the competitors you are following (max 20) and see their visibility, estimated traffic and number of keywords in top 3, top 10, etc.
In Rankings Distribution you can also see the rank of each competitor only on the keywords in top 3, top 10 etc.

Click on the number of keywords Lost or Declined to see what are the keywords concerned by the change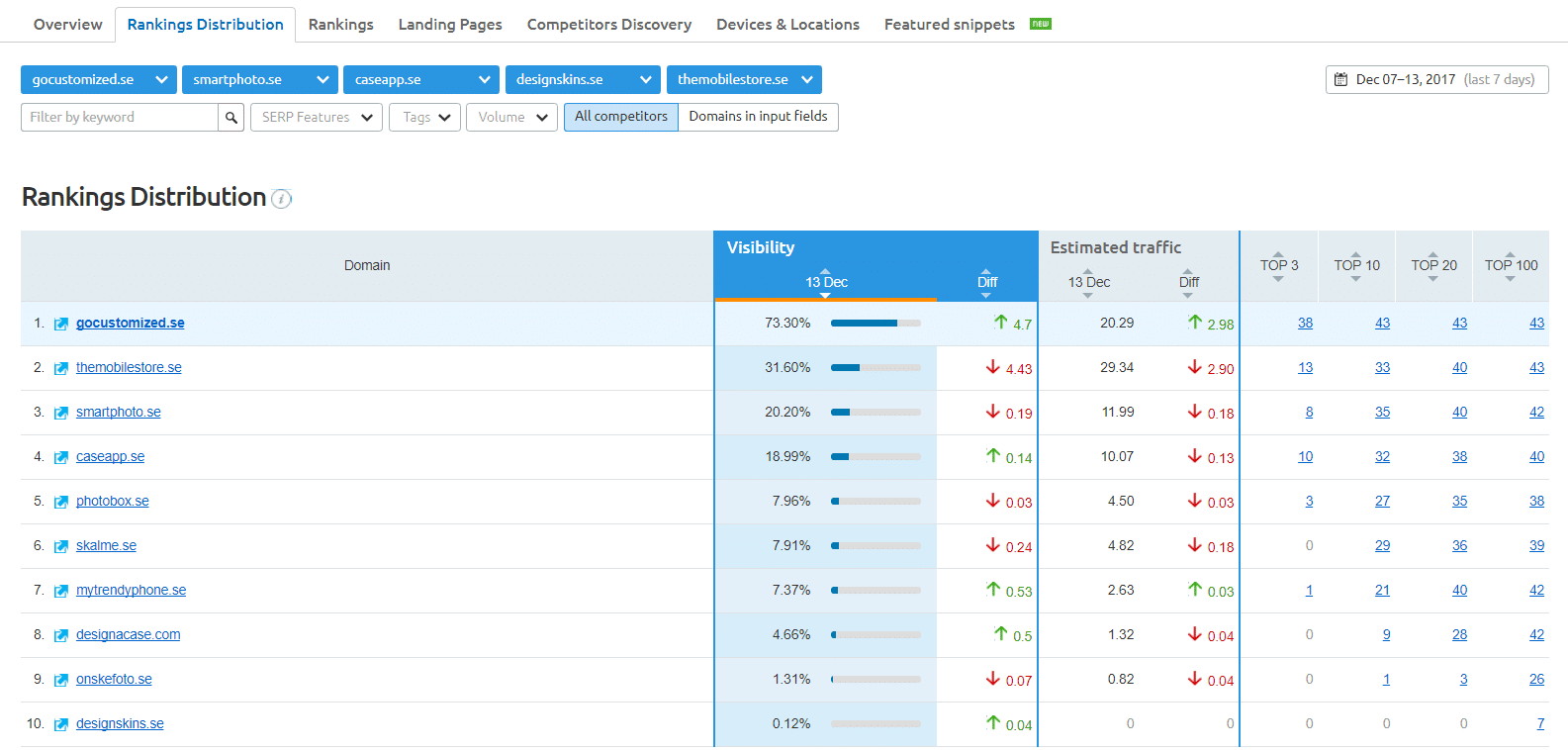 Rankings
In Rankings filter KW by top 3, top 10 etc. & by New, improved, Lost or Declined.

You can also apply a tags or a keyword.

Landing pages
In Landing Pages you can check the pages that are have lost or get new keywords.

By clicking you see which keywords is concerned and what is the impact in traffic.
You can also check for a specific keyword to see which page actually have lost this keyword.

Competitors discovery
Here check the position of your brand according to how many keywords we have ranked for top 3, top 10 etc. and what is our average position.
Below the map, you can see all the websites of the web ranked for the same keywords as us.

See the estimated traffic, the visibility, the number of keywords we share and if we already follow them in the overview.


Devices & Locations
This last tab is to compare the ranking of one website per location or per devices.
Conclusion
In this article, we focused on the Position Tracking Tool but SEMrush is an extremely powerful tool and allowed you to do much more than that. But I think that's where they are the best and a lot of other tools propose the same features, just Semrush allows you to have them all in one place.
It's very handy, but the downside of that is that it has a cost, plus this tool is more and more expensive each year… Semrush if you read that let us pay per module, not all companies, can pay that much for only few tool we actually really need.
However, I think it's definitely a tool to have if you own a website and that whatever the price but be aware you'll not be able to give access to your whole team if you have a small budget.