In this article, I will give you some tips that I have learned from my experience as a marketer. I work for a small start-up, Gocustomized, which is becoming bigger and bigger every day thanks to our SEO strategy. The company was founded in the Netherlands and had only one product to start with. The beginning yet was a real success story. The company has grown naturally for a year until we reached the maturity stage of the product. We started finding more products to continue growing. But it wasn't that simple to find new products not yet on the market. Our new strategy was then to simply offer the same products as our competitors but just be better at it! We put all our efforts in our marketing strategy and especially in SEO. The goal was to beat every competitor and get all the organic sales. Once we saw that our strategy was working, we applied it to different countries. We saw the same good results each time. We are now in the Top 3 within our field, with the best keyword* in 9 countries and #1 in 5 countries.
*We consider the best keyword the one which brings the most volume search according to Google.
How to define your SEO winning strategy
Before telling you what our SEO winning strategy is, I need to tell you how we defined this strategy. Then you'll be able to define yours. All businesses are different. What matters is not copying what we did, but to determine what is best for your website!
Only 4 steps are necessary to define your winning strategy.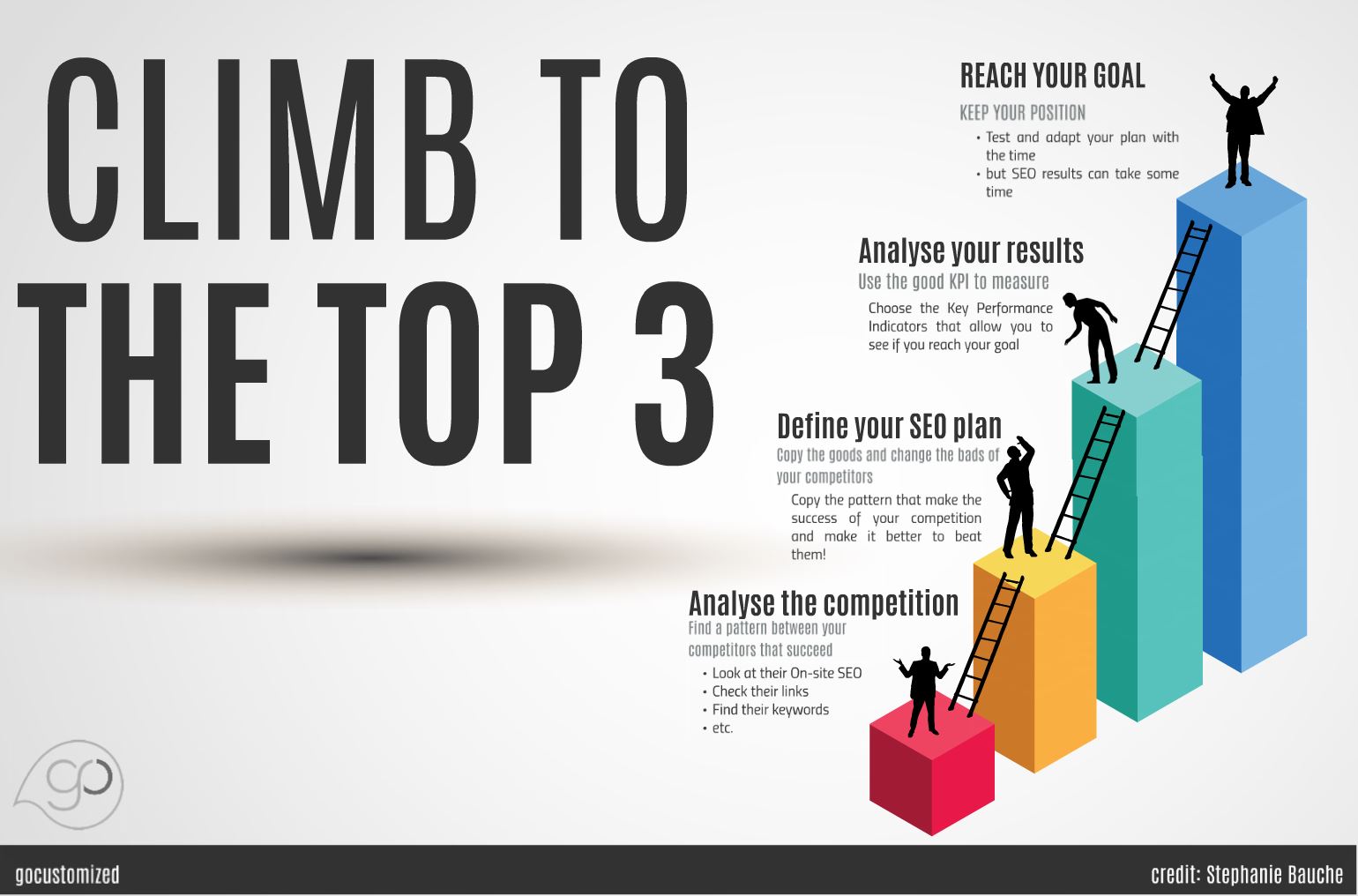 1. Analyse the SEO of your competitors
It sounds obvious but actually few companies start with this. People have attempted to invest money without first analysing the market leaders.
The goal of this point is not to completely copy what your competitors are doing. Try to find a pattern between all your best competitors. Study the ones on the top of Google because they must be doing something right to be there. However, not everything that they are doing is good. Therefore find the patterns but also the differences. From there you'll be able to determinate the good and bad practices.
The first step is to analyse the other sites currently ranking on the Top 3 (or top 5 to define a pattern more easily)!
Look at the On-Site SEO of the main competitors and of course, analyse the link outreach of the main competitors.
2.   Define your SEO plan
Compare the results of your analysis between websites to determine a pattern. I personally use a big excel sheet. I put a column for each competitor and a row for each criterion that matters in On-Site SEO and Off-Site SEO.
Your analysis help you identify a pattern. This pattern seems to be the one favoured by Google for the Keyword Phrase you want to rank for. Based on that you can make your SEO plan!
3.   Analyse the results weekly and monthly with the right KPIs
There are plenty of tools that help you analyse your results, ranking, On-Site SEO, links, etc… It's tempting to check all of them and compare it to your competitors but don't analyse too much data! It's going to take up all your time and won't help you that much. Don't go too deep and remembering the right numbers is the key. Follow only the KPI's which help you to see if your SEO plan is working or not. First, ask yourself what is your goal? Is it to have your best (most volume search) keyword in the top 3? Or to have as many keywords as possible in the top 10? It's good to check certain numbers every week to see if you are on track with your plan. For example, with links or On-Site SEO. And every month analyse your position compared to your competitors. Then you can see if the efforts are paying off.
4.   Test and adapt your SEO strategy with time
Of course, you won't be able to see after the first month if your SEO plan is paying off. After 2 months you should already see if something is happening. Then choose if you want to continue in that direction, or if you have missed something. Don't change your plan every week though, SEO results can take some time (a few months) to be rewarding! Also, continue to analyse your competitors as they may adapt their plan after you join the game ;-). I've said before to copy the strategy of your competitors but maybe they are not doing anything. It can be that they ranked good because they were just here first. In that case, do more than them and beat them on the points where they are weak!
Our SEO winning strategy
We passed by all the steps you've seen before in this article to define the best strategy for our company. We are still updating it every time something is not working anymore, or something new comes up in the SEO world. We decided to put our efforts on the best keyword and the best long tail keyword for each product.
The best keyword is the keyword that brings the most volume search according to Google. The long tail keywords are more precised keywords. They have usually less searches volume but the conversion rate is always better.
This strategy brings us to the top of Google for the keywords we focused on. We placed 9 countries in the top 3 and we are #1 in 5 countries!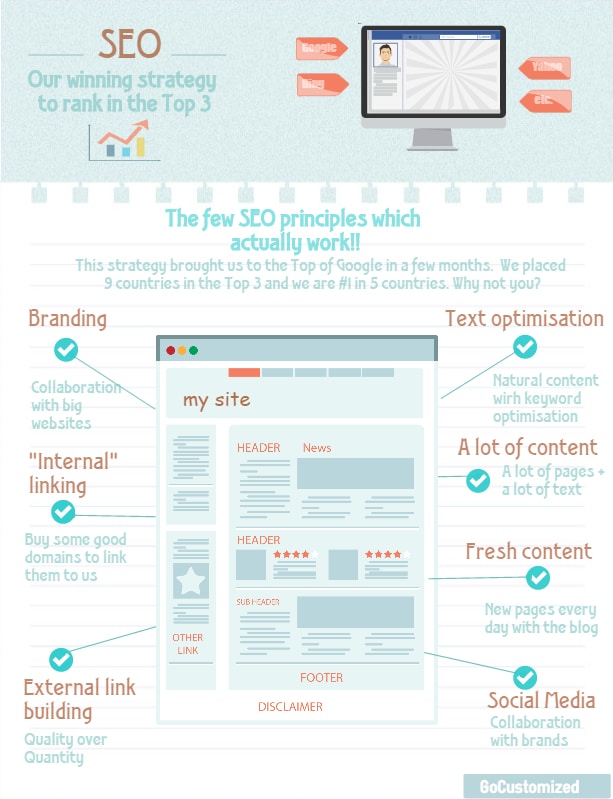 1.   On-Site SEO
We first focused on having our content optimised for our focus keywords, we wanted to bring to the top. With this aim in mind, we created a page by-product. It generated a lot of work because we need unique content all the time for very similar products. It helps us to optimise content for a different keyword and long tail keywords. We noticed that with time, long tail keywords bring fewer people but convert better. People who want to buy right now are looking for specific queries. Once we reached the top with most of the main keywords we started reviewing some text. The goal was to add more and more synonyms to be shown for even broad keywords.
In addition, fresh content helps us to make the ranking position move faster on Google. So, we tried to keep a high rhythm of new content and we continued to add new products every week to the catalogue. Quickly it became impossible to add new products every week. We noticed that some of our competitors had a blog. We weren't sure if it was a good thing or a waste of time, but we tried so we could at least see the results. We started our own blog to be able to add fresh content every day about our product or related topics.
2.   Public Relations for SEO
When analysing the competition, we saw that our best competitors were the ones with a lot of links. We put our focus on that in order to get a lot of websites linking to us. We surely couldn't get as many links as them in a short period of time. We adapted our strategy to concentrate on the quality of the links. We applied some rules to select websites we wanted a link from, for their quality, relevance etc…
We also chose to buy some domains where we created our own link pages and blogs to be able to trade links. Besides, we could use those to put links to our websites with the focused keywords.
Branding is also important for SEO. We didn't see much of our competitors doing it but when we looked at others brands they were all doing it! We decided to do it more and more as a test. The first idea is close to link-building as we want big media and famous websites to talk about us. For that, we started to write press releases about any important steps the company made. We were sending them to big media groups in the hope that they would talk about us. We contacted some magazines for potential collaborations. Most of them wanted money to collaborate so we had to be creative to make it happen without money involved. A link from a big website will bring value to our site (if it's a follow link) but not just that! It can also make the brand more known and it's a very important step for all business, even if it's not for a direct SEO purpose.
3.   Social Media for your SEO
Social media is an important point for SEO. The link between ranking and social media has not been proven yet. But being present on social media cannot harm you! All our competitors were better than us because they started much longer before us. To compensate, we needed to be very active; putting a link to our social media everywhere on the website, on the confirmation email, on the newsletter etc… We made collaborations with other brands to make competitions. Thus, their fans can like our page and vice versa. We did a lot of blogger collaborations and competitions. People needed to like our page to get something in return. We doubled our number of followers within 6 months!
Make your own SEO strategy
I gave you a deep look into our strategy but don't forget that our strategy might not be good for you. It is easier to just do what worked for us and see if it also works for you. but looking at what is best for you is actually the key to a good strategy! We succeed because we took the time to analyse first what is best for us and not copy what is best for someone else! Of course, applying our strategy won't bring you bad results, but it can be optimised to bring even better results. Take your time, analyse, try and correct/adapt with the time.
Discover in this article which tools are the best for SEO and which SEO KPI you should follow to analyse the performance of your strategy.