This week I'm going to go more in details in one of my favourite SEO tool. If you end up on that article you are probably asking yourself the question "Do I need Semrush?". I'm going to answer it by explaining all the things that you can do with Semrush.  I'll give you my review of each module of the tool and if and how I use them.
First of all, here is what Semrush looks like: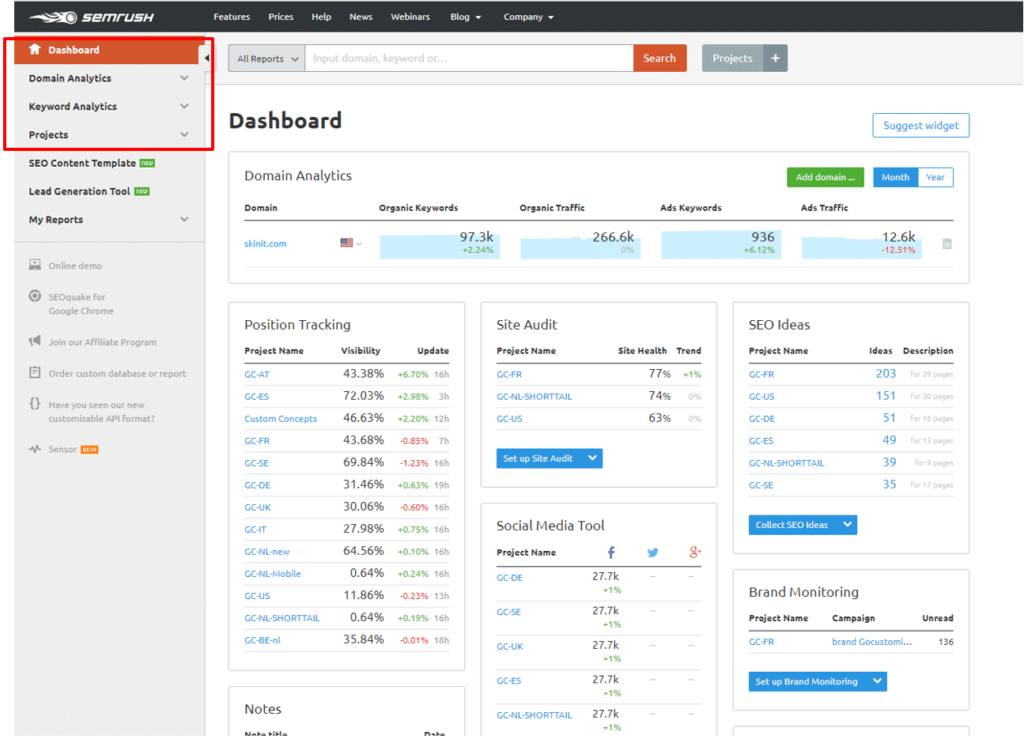 We have been working with that tool for 4 years now and over the years Semrush has developed more and more modules for SEO analysis. Which makes that tool one of the most used by businesses, professional bloggers and SEO agencies!
What can you do with Semrush?
1. Domain Analytics in Semrush
Domain Analytics will help you check the traffic and keyword statistics of a website with parameters such as traffic, backlinks, keywords etc. This module will be really helpful to identify your top competitors and compare their website to yours. You can see which keywords are bringing the most traffic to the website you analyse and notice easily if a domain has gone up on a certain keyword. You can use that module to identify the top organic keywords of your domain and see the main organic competitors according to the number of keywords you have in common.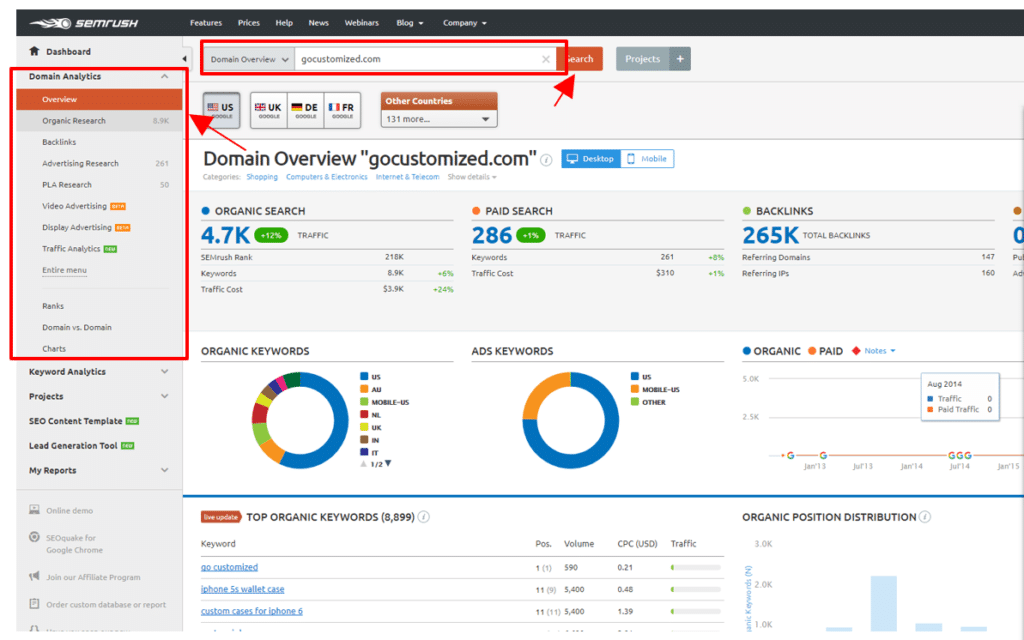 I use it a lot to make some prospection in a new market but also for the markets we are already working on to verify that we don't have a new competitor or a domain that we have missed in a previous analysis. But you can also use it for to do some on-site SEO analysis of specific pages of your website, see which keyword stands out the most from your page and how many competitors are trying to rank for the same. There is also a part which gives you more info about backlinks of the domain or page but I don't really use that part much as I find Majestic more clear and reliable.
2. Keywords Analytics in Semrush
Keywords Analytics will give you information like keywords volume, related keywords, the difficulty to get them and even the ads history of the keywords. You can compare a lot of similar keywords and get a structured table of how hard/easy it is to rank high on these keywords. This way we know if we should or should not put too much effort on ranking certain keywords.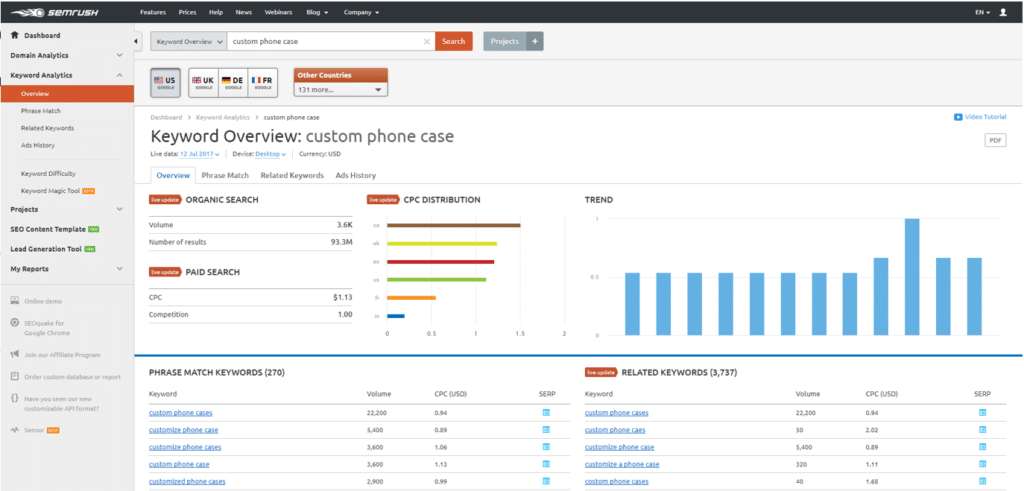 The module looks great but in my point of view, it doesn't bring more info than Keyword Planner from Google. Sometimes I still use it but mostly to find questions related to a keyword but also to see which SERP features are available for each keyword. It's something that doesn't propose yet Keyword Planner but at the same time, it's not a very essential information. To be honest, I'm not choosing to rank for a keyword because there is this SERP feature or not.
3. Projects Overview of Semrush
This module Projects is composed of several modules which will apply to different projects of you. You'll be able to follow and keep track of the KPI from different areas: position on Google, On-site SEO for your content but also for the technical part, and off-site SEO like guest content, links, and even social media and PPC.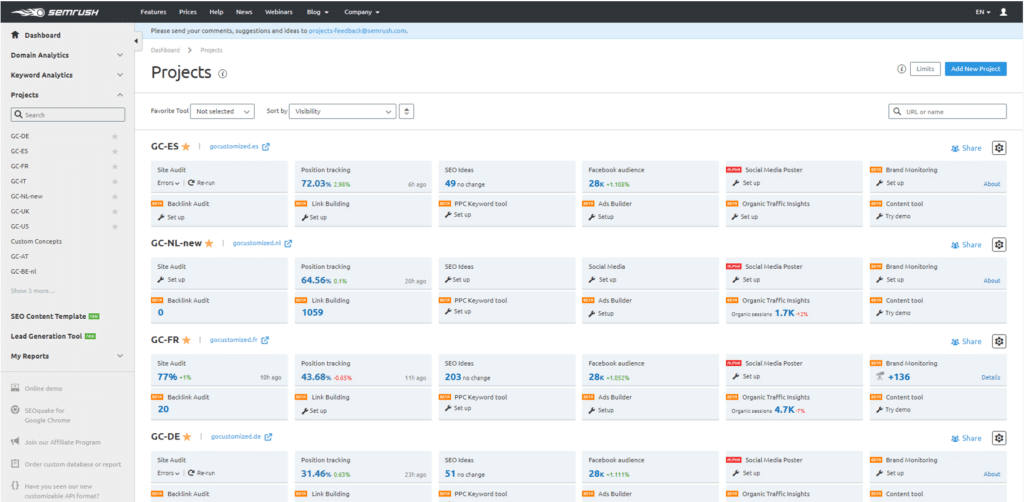 It's definitely the part I use the most. Here, I made a project per country because we have a different website for each country/language and we are trying to rank for different keywords. The overview allows you to quickly see where there is an issue and the different tool will help you identify this issue and fix it.
This module will audit your website and find any technical SEO issues that could be harming your website. With that, you'll be able to quickly notice the mistakes and fix them to improve your SEO performance and then your website value. The module Site Audit classifies the issues as Errors, Warning or Notices and works for both mobile and desktop websites and has the ability to check up to 20k pages per project.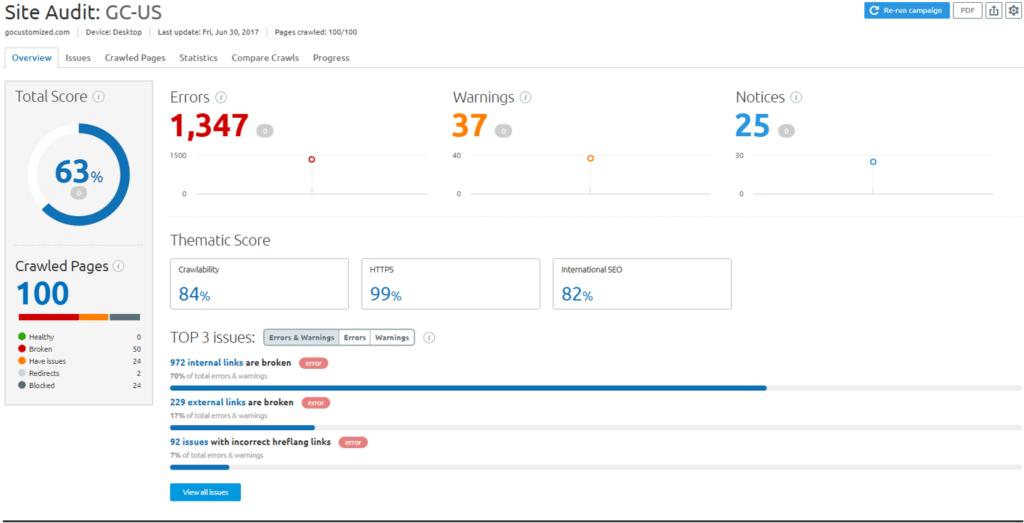 I noticed that a lot of issues found by the tool are not real issues. For example, broken links weren't broken but for some reason the tool sees them broken etc. But I personally still use it as a help to identify and fix problems affecting our on-site SEO and to help us improves our user experience. It's never bad to re-check the pages with "maybe" issues even if at the end you can conclude that there weren't issue. The tool can definitely be improved but the layout is clear and easy to understand.
Position tracking Semrush
Position tracking is definitely the strength of Semrush. You can easily track keyword rankings to determine which of your keywords are bringing you the highest volume. It let you compare your site to the competiton with just one glance. In this view you identify quickly the keywords where your competitors are better than you and where you need to put more efforts in.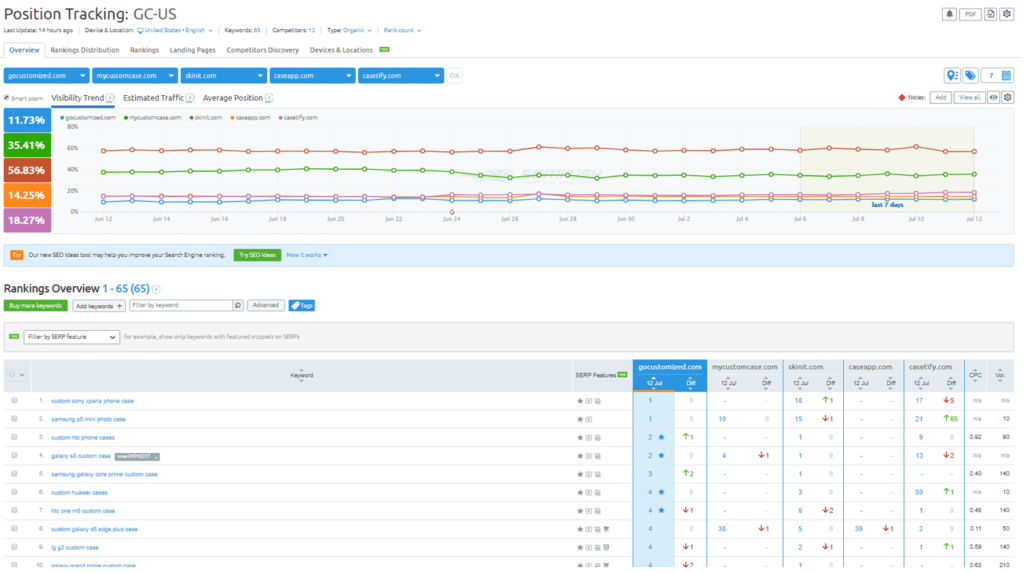 I use it mostly to follow the visibility so if we are going up or down. The visibility is calculated with the position of all of your keywords. If your domain is in position 1 for all keywords, visibility will be 100%. Compare to the Search Console of Google Analytics this tool allows you to get a clear view of your overall visibility.
The only thing you need to remember when using that tool is that it follows only the keywords you enter in the tool. So if you don't track the right keywords you might just look at a biased visibility value. For example, if you add only the keywords you are ranked well you might have a really good visibility score but you are not taking into account the keywords that your competitors are ranked well on and where you are not. To be sure you are following the right keywords you should export the list of the keywords you get from Search Console + the list from your Adwords Campaigns and then compare your traffic with the estimated traffic given by the tool. If the estimated traffic is close to your real traffic it means that you are using the tool correctly, otherwise, you might have missed some keywords which brings you somehow a lot of traffic. More you add keywords more the tool will be precise and then you can get make a really good analysis of the data you are getting.
I'll go more into details of the different things you can do in this module in another article.
With that module, you can generate new SEO Ideas to improve your SEO rankings for specific landing pages.  It will detect which page can be improved, gives you ideas on how to optimize the page, recalculates the results after changing something so you can see if it was useful or not and give advice based on what the competition does.

I don't really use it because I prefer checking the pages to improve according to the results in traffic, conversion, bounce rate, etc. and draw my own conclusions. So I mainly use Analytics for that but I have to say that it's a nice tool to give to someone who hasn't have time or analysis skills to go deep in the results of Analytics. This tool is much more simple to use and give you already what to do and where.
Social Media tool Semrush
The Social Media Tool compare your social media profiles with your competitors to determine where you are being outperformed and adjust your strategy accordingly.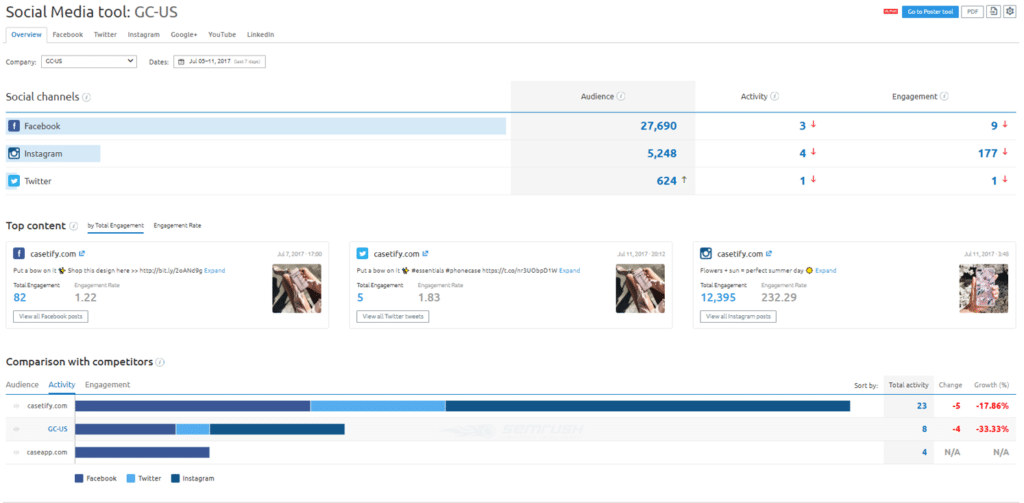 This module is quite new in Semrush so I haven't time to check it in details. But from a first impression, it seems very interesting insights. A lot of other tools propose the same results though. But it can be very nice to have all in one tool. I think that is definitely the strategy that Semrush is going for. In the future, we might use then that tool more and more and since it was an Alpha version when I tried it, I think we can expect a lot more in the next versions.
Brandt Monitoring Semrush
The tool allows you to easily track all mentions of your and your competitors' brand, products on the web and social media. You can create several campaigns to also monitor your competitors.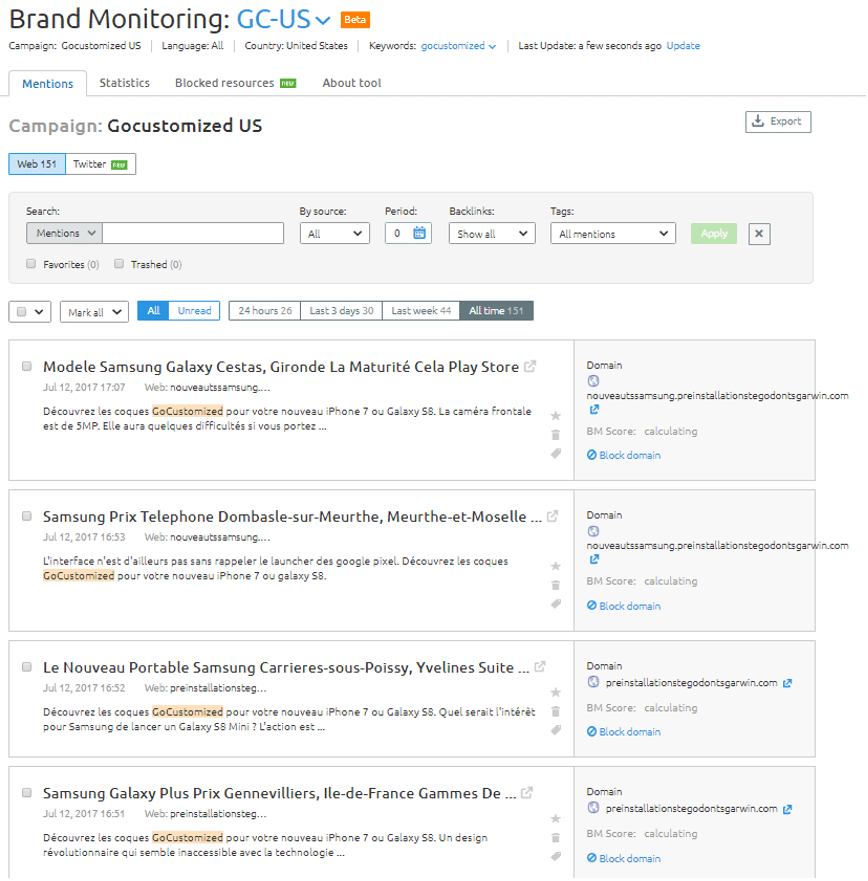 We are not using much that tool but sometimes it's interesting for us to check it and we can find there some opportunities for backlinks.
Audit your backlink profile to help you find and disavow toxic backlinks before you get penalized by Google.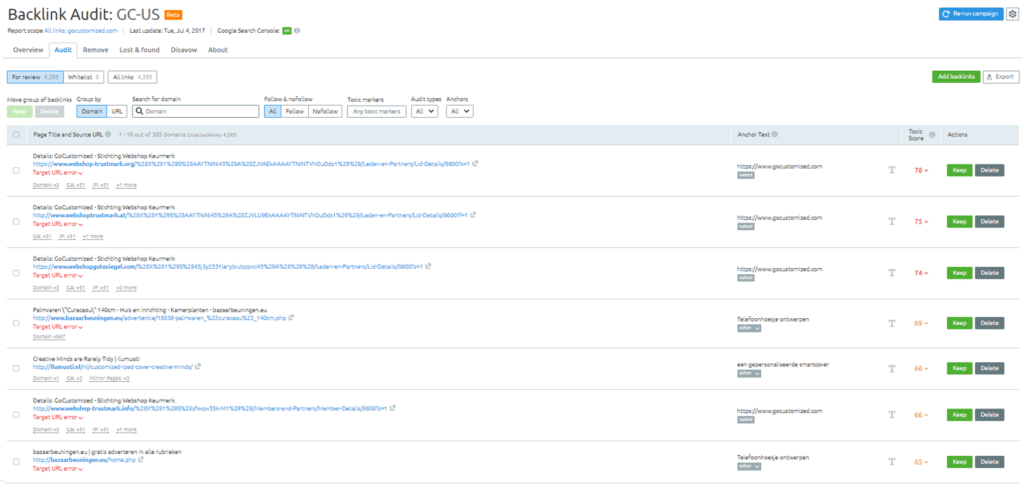 I use that tool a lot but I don't trust it completely. I find the tool a bit too picky sometimes but better too much than not even, right? So I usually export the result of toxic links, compare it with the tool proposed by Moz. I can then make a list of only the links that are found by both tools and fix, remove or disavow only those very bad backlinks.
This module proposes to find links opportunities for your site.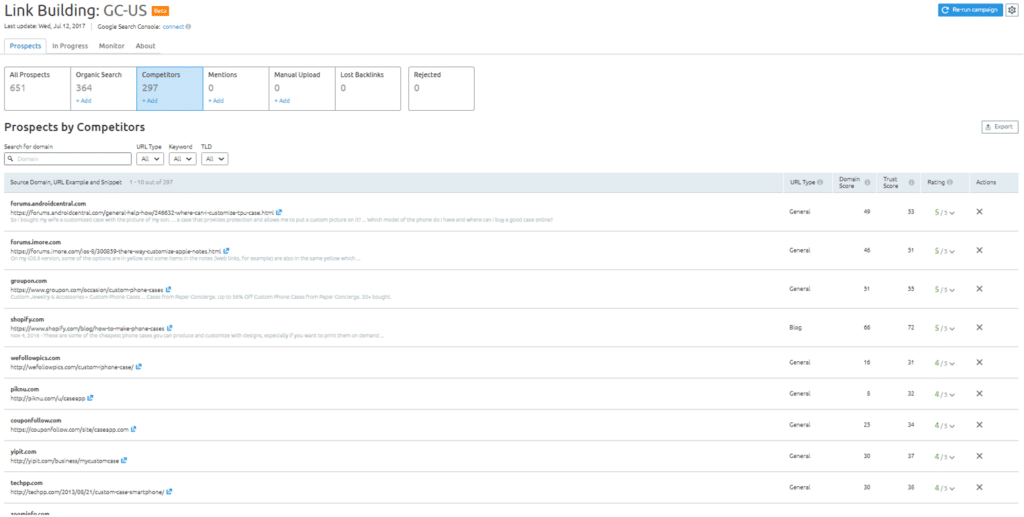 It's useful to see what the competition is doing in terms of Link building but I personally prefer majestic or Linkbird for anything related to Linkbuilding. I think the module can be improved, most of the time the backlinks are not the most recent ones. Also, it seems that the tool doesn't find them all since I have fewer results than with the other tools.
Organic traffic insights Semrush
You can sync your Google Analytics account with SEMrush to monitor the performance of your traffic and rankings over time to see where you may need to make the appropriate changes.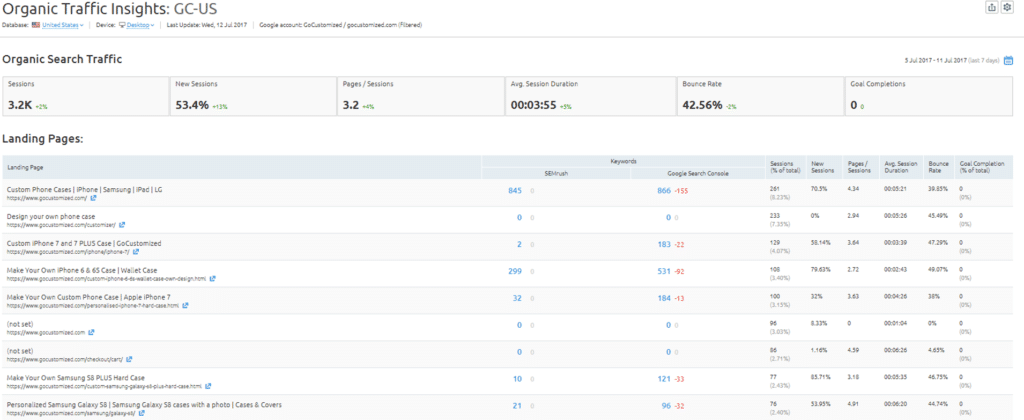 To be honest, I think it's again a trick from Semrush to make you do everything in their tool. But you don't have more insights that you would have in analytics so I don't see the point of using it. Maybe it's interesting for companies where the employees working on SEO don't have access to analytics.
Content Tool can evaluate some of your and your competitor's content. It will check the popularity and readability of the content posted on another website and evaluates how well your texts, blogs and articles posted on third-party websites are engaging readers and interacting with other sites and search engines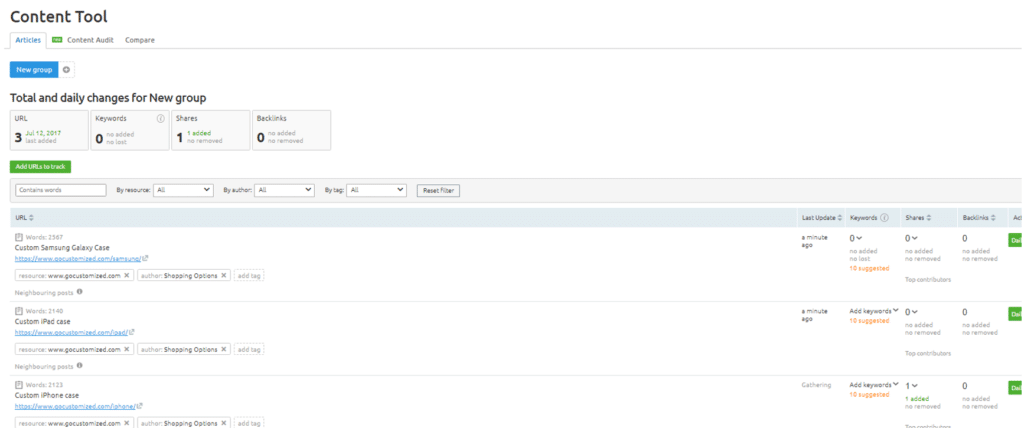 We don't use that tool at all because we rarely post content on another website.
With that tool, you can Search, create and manage your keywords with the PPC Keyword tool.
Ads building help you creating your different campaigns and ad groups.
However, I haven't used or even have a look at those tools so I can't tell you more about it.
Why you should use Semrush?
Semrush is good if you like to have all of your tools reunited in the same place. Otherwise, you'll find better tools for each area that Semrush promised to cover except for the Position Tracking Tool which is from my experience the best tool for it. And it's definitely an essential to have in your SEO toolbox. It might also make you save some money to put everything in only one tool.
But, be careful, Semrush gives you a lot of insights but you can be rapidly submerged by too many data. We have seen in a previous article, KPI to follow, that having a lot of data to analyse doesn't necessarily help you and might even bring you in the wrong direction for your SEO strategy. Check also my article to define the right SEO strategy, which will help determinate the tools that you actually need.